HOSHIZAKI IM Ice Machines (Cube Ice)
Cube ice is perfectly symmetrical and leaves a good impression with its hard crystal clear quality that melts very slowly, allowing customers to enjoy their favorite drinks longer. Hoshizaki's cube ice makers are easy to use and applicable for many operators.
The IM series allows more flexibility of application with each range offering ice in variable capacity alongside a design for uncomplicated usage from start to finish.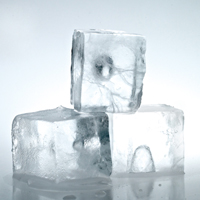 HOSHIZAKI KM models
Self-Contained Type
Model
Capacity per 24h
(AT 21 °C)
Storage
Dimensions (WxDxH)

IM-30CNE
IM-30CNE-25

22 kg (28x28x32 mm)
18 kg (25x25x23 mm)

11.5 kg

398 x 446 x 695+100 mm

IM-45NE
IM-45NE-25

32 kg (28x28x32 mm)
32 kg (25x25x23 mm)

18 kg

503 x 456 x 840+100 mm

IM-45CNE
IM-45CNE-25

32 kg (28x28x32 mm)
32 kg (25x25x23 mm)

15 kg

633 x 506 x 690+100 mm

IM-65NE
IM-65NE-25
IM-65NE-Q
IM-65NE-LM103

47 kg (28x28x32 mm)
44 kg (25x25x23 mm)
24 kg (ø45 mm)
28 kg (103x48x58 mm)

26 kg

633 x 506 x 840+100 mm

IM-100NE
IM-100NE-23

83 kg (28x28x32 mm)
79 kg (28x28x23 mm)

23 kg

704 x 506 x 1200+100 mm

IM-100CNE
IM-100CNE-23

83 kg (28x28x32 mm)
83 kg (28x28x23 mm)

38 kg

1004 x 600 x 700+100 mm

IM-130NE
IM-130WNE*
IM-130NE-23
IM-130WNE-23*


104 kg (28x28x32 mm)
104 kg (28x28x23 mm)

50 kg

704 x 506 x 1200+100 mm

IM-240NE
IM-240NE-23

230 kg (28x28x32 mm)
175 kg (28x28x23 mm)

110 kg

704 x 665 x 1510+100 mm
*water-cooled
Modular Type
Model

Capacity per 24h
(AT 21 °C)
Ice Bin**
Dimensions (WxDxH)

IM-240ANE
IM-240AWNE
IM-240ANE-23

205/215* kg (28x28x32 mm)
175/185* kg (28x28x23 mm)


B-301SA
B-501SA
B-801SA
560 x 700 x 880+1106 mm

IM-240DNE
IM-240DNE-23
IM-240DNE-32
IM-240DWNE*
IM-240DWNE-23*
IM-240DWNE-32*
IM-240XNE
IM-240XNE-23
IM-240XNE-32
IM-240XWNE*
IM-240XWNE-23*
IM-240XWNE-32*





220/202* kg (28x28x32 mm)
175/175* kg (28x28x23 mm)
175/170* kg (32x32x32 mm)

B-801SA

1084 x 700 x 500***+1106 mm
* water-cooled
** Ice bin capacities: B-301SA - 144kg | B-501SA - 217kg | B-801SA - 348kg
*** for each unit
"LM" Large Cube (48x48x58mm) Self-Contained Type
Model

Capacity per 24h
(AT 21 °C)
Storage
Dimensions (WxDxH)

LM-250M-1

26 kg

10 kg

500 x 450 x 850 mm



LM-350M-1

37 kg

17 kg

630 x 525 x 850 mm



LM-550M-1

63 kg

41 kg

700 x 525 x 1200 mm